Get your holiday gift baskets from our boutique shop.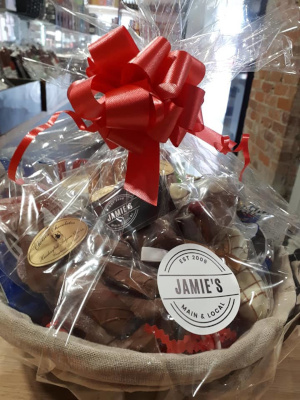 When the holidays are quickly approaching, you might start feeling the pressure to go out and find gifts for your colleagues or family friends. Since it can be hard to find something that everyone likes, that's why holiday gift baskets are such a popular option. If you are looking for holiday gift baskets packed with goods anyone would love to receive, we encourage you to visit our boutique shop. At Jamie's Main & Local, we always love when our Clearview Township, Ontario customers come to visit us, and our staff will make sure your needs are met.
Holiday gift baskets are the perfect gift for a couple of reasons. First, they're a pretty neutral gift, and they're excellent for both casual and fancier occasions. Secondly, you can give holiday gift baskets to nearly anyone and they will thoroughly appreciate them. For example, your boss will probably love a holiday gift basket just as much as your church acquaintances or in-laws will. In addition, receiving a holiday gift basket is like receiving multiple gifts in one. People love seeing the variety of items in a basket and enjoy using them bit by bit over the next few weeks or months.
Our holiday gift baskets are sure to make your friends and acquaintances smile, and our friendly team members would be happy to customize your gift baskets for each of your loved ones. If you come into our shop and speak to our staff about the kinds of things you want to put in your holiday gift baskets, we'll do our best to accommodate your requests and create the kind of gift you want to give. Contact us if you have any questions.